eTicket is a free web based support ticketing system which allow you to receive trouble ticket via email or a web form. This free web based support ticketing system has a fairly simple user interface and navigation is simple. eTicket is written in PHP and using MySQL database. It's features include email to ticket, email alert on new ticket creation and ticket update, canned response, assign ticket to staff, ticket category and more!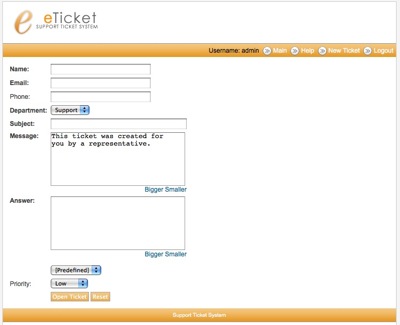 Setup and configuration
The installation process for this support ticketing system is easy. But if you are performing a fresh installation, it may require you to change a file name. I personally found this is not good enough where this should be done by the system not by the user.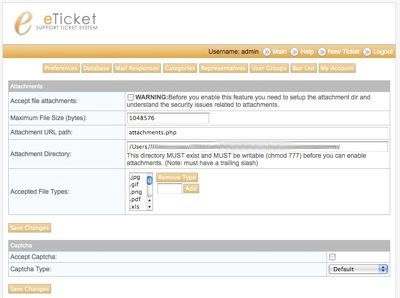 Email to Ticket
If your main requirement is to receive trouble ticket via email, this web based support ticketing system is just right for you. However, before you can receive the ticket thru email, you need to configure the email piping or receive email from a POP3 account. Once the configuration is done, user and support can update the ticket purely thru the email communication. This is what i like!
Furthermore, this support ticketing system allow you to configure different ticket category can fetch ticket from different email address. So it will auto put the ticket to it's respective category.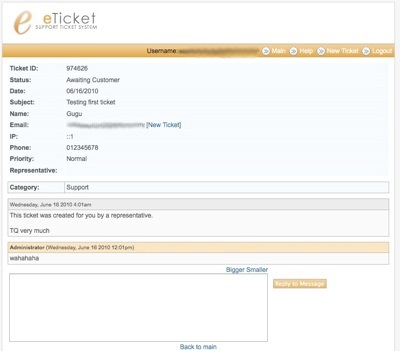 Summary
Web based: Yes
Easy of installation: 4/5
User Interface: 3/5
Fetch Ticket from Email (POP3): Yes
Email alert on new ticket and follow up: Yes
Staff/User able to reply using email: No
Canned responses: No
Assign Ticket to staff: Yes
Support Email Attachment: Yes
Knowledge base: No
Ticket category: Yes
Customer Database: No
Product Database: No
Reporting: No
Required Platform: PHP & MySQL
Website: eTicket
Download: Click here
If this web based support ticketing system doesn't suit your requirement, you may want to check out Hesk – the free php helpdesk software.