RT (Request Tracker) is a free, open source help desk software. This free help desk software is very well in handling email ticket and it's has a web based interface which allow support team to access the ticket anytime anywhere. After testing the RT ticketing software, i found the most powerful part of this ticketing system is that support staff can reply and update ticket fully via email without logging into the web interface. Furthermore, it also allow administrator to create custom field that is needed by your organization!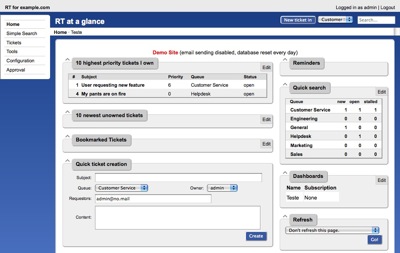 Setup and configuration
The installation and configuration for this helpdesk software require you to have certain level of expertise and user privilege in your Linux box. Although there are several documentation on how to install RT ticketing system, i can say it's not that easy for a linux beginner. To increase to success rates, research before install.
Email to ticket
RT ticketing system has the best email to ticket function i ever tried. Ticket will be created once the email is received and there is no need for mailbox polling. Furthermore, it allow user to create, update and close the ticket thru the email! it's so convenient for mobile support staff.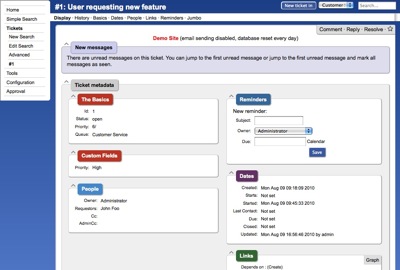 Reporting
In terms of reporting, this helpdesk software provides an advance search page where you can specify your search criteria to list out all the tickets according to your requirement. But some might feel the advance reporting form is not suitable for their business environment and they may need to build their own reporting package for RT.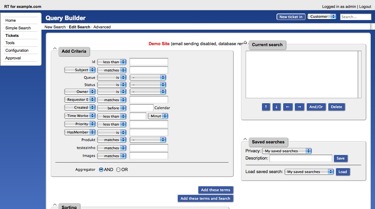 Summary:-
Web based: Yes
Easy of installation: 2/5
User Interface: 4/5
Create Ticket from Email: Yes
Fetch Ticket from Email (POP3): No
Email alert on new ticket and follow up: Yes
Staff/User able to reply using email: Yes
Canned responses: No
Assign Ticket to staff: Yes
Support Email Attachment: Yes
Knowledge base: No (Add on)
Ticket category: Yes
Customer Database: No
Product Database: No
Reporting: Yes (Advance Search)
Website: RT helpdesk software
Download: Click here