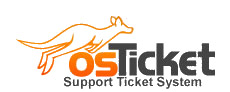 This free web based helpdesk system has a very similar interface like eTicket. Both free web based helpdesk system looks similar from the front but it has a totally different admin panel. osTicket come with a very simple interface but able to handle complicated tasks. It's features include transfer ticket to different department, reassign ticket, canned reply, internal notes, email piping, knowledge base and more.
The down side of this free web based helpdesk system doesn't come with any reporting features. If reporting is one of your requirement, you may want to develop it yourself or you might want to try Hesk helpdesk system.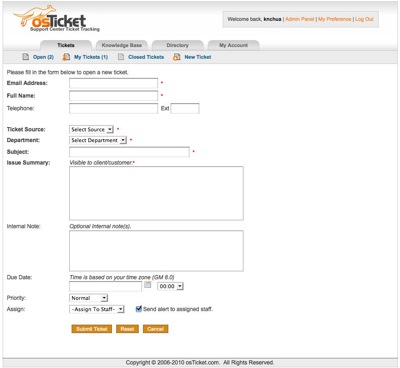 Setup and configuration
osTicket helpdesk system has a very simple installation process. Just follow upload the files to your web server, point your browser to the domain and follow the on screen instruction will do. Once installed, login to your admin page and configure the settings (eg. Site Name, default department, date time format, auto responder and etc)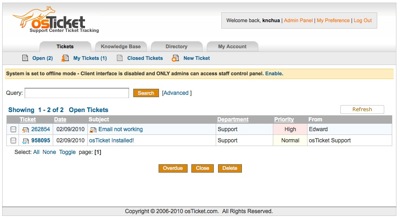 Email to Ticket
Email to create new ticket is a feature that most people is looking for. osTicket helpdesk system do support email piping and email polling (POP3/IMAP). Just look for the tutorial at their wiki page for email piping and polling at and you are set! The tutorial is fairly easy and configuration can be done within 10 minutes.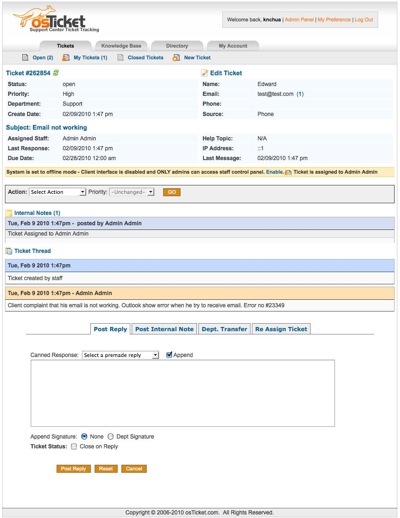 Summary:-
Web based: Yes
Easy of installation: 4/5
User Interface: 4/5
Fetch Ticket from Email (POP3): Yes
Email alert on new ticket and follow up: Yes
Staff/User able to reply using email: Yes
Canned responses: Yes
Assign Ticket to staff: Yes
Support Email Attachment: Yes
Knowledge base: Yes
Ticket category: Yes (Department)
Customer Database: No
Product Database: No
Reporting: No
Required Platform: PHP & MySQL
Website: osTicket
Download: Click here