vTiger is an open source CRM that come with Trouble Ticket module. The trouble ticket module turn this CRM system into a helpdesk system which able to receive trouble ticket through email. With some configuration, vTiger can be turn into a powerful helpdesk system. With proper configuration, vTiger is able to support auto ticket creation from email, auto ticket assignment, workflow for trouble ticket, Internal notes, tie trouble ticket to product, tie trouble ticket to customer database and lastly it allow you to generate reports!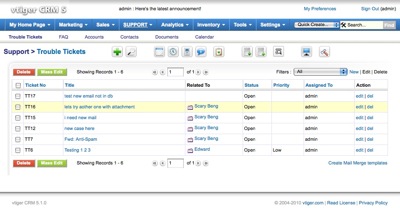 Setup and configuration
The installation of vTiger CRM is very user friendly. Just that you need to put some time to key in / import your Product and Customer database. So that the trouble ticket can be bind to the correct product and customer.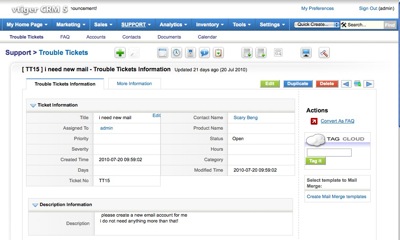 Email to Ticket
By default, vTiger trouble ticket module does not able to support email to ticket feature. Thanks to the Mail Scanner module, you can easily configure vTiger to receive email from a POP3 email account and it will auto create a trouble ticket according to your criteria. To make vTiger a true support ticketing system, you need to do some customization and setting in the code as well. No worry, there are few articles already published on the net where it teach u how to configure vTiger to auto create trouble ticket from email and auto assignment.
Summary:-
Web based: Yes
Easy of installation: 4/5
User Interface: 4/5
Fetch Ticket from Email (POP3): Yes
Email alert on new ticket and follow up: Yes
Staff/User able to reply using email: No
Canned responses: No
Assign Ticket to staff: Yes
Support Email Attachment: Yes
Knowledge base: No
Ticket category: Yes
Customer Database: Yes
Product Database: Yes
Reporting: Yes
Required Platform: PHP & MySQL
Website: vTiger
Download: Click here